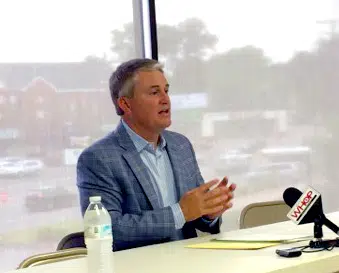 Congressman James Comer is expressing his thoughts and prayers to those affected by Sunday night's mass shooting at a country music festival in Las Vegas.
Interviewed by WHOP News Monday morning, Congressman Comer said the victims are in the thoughts of everyone in Washington.
  00:00           
 00:00         
U.S. Senator Rand Paul tweeted a statement, saying that he and wife Kelley send their "prayers and deepest condolences to those affected."
Meanwhile on other topics, Congressman Comer said he's been assured that the official designation of the Pennyrile Parkway as Interstate 169 with new signage will come soon.
  00:00           
 00:00         
Comer says he supports the tax reform proposal unveiled last week by President Trump and believes it would spur economic growth in Kentucky.
  00:00           
 00:00         
You can hear our entire interview with Congressman Comer Sunday morning at 9 on Don't Be Afraid to Say It on Lite Rock 98.7 or listen to it by clicking below.
  00:00           
 00:00         
**