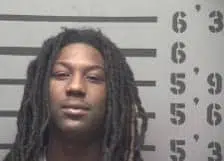 Hopkinsville police have identified a suspect they are seeking in connection with a shooting incident from early Sunday morning on McKee Street.
Police are looking for 23-year old Tavarious Matthews on charges of first-degree wanton endangerment and fleeing or evading police.
Anyone knowing his whereabouts should call ECC at 270-890-1300.
As previously reported, Hopkinsville police located five guns that had been tossed aside and approximately 75 shell casings in the area of the 1600 block of McKee. One person was taken to Jennie Stuart Medical Center with multiple gunshot wounds and later transferred to Vanderbilt University Medical Center.
Another victim was treated at Jennie Stuart Medical Center for a gunshot wound to the shoulder and a third person went to Jennie Stuart with a head injury sustained while fleeing during the incident. The gunshot victims have been identified on a Hopkinsville police report as 33-year old Maurikus Leavell and 35-year old Charles Winston of Hopkinsville.
Lt. Seth Meek said at least 200 people were gathered at a party on McKee when the gunfire erupted.