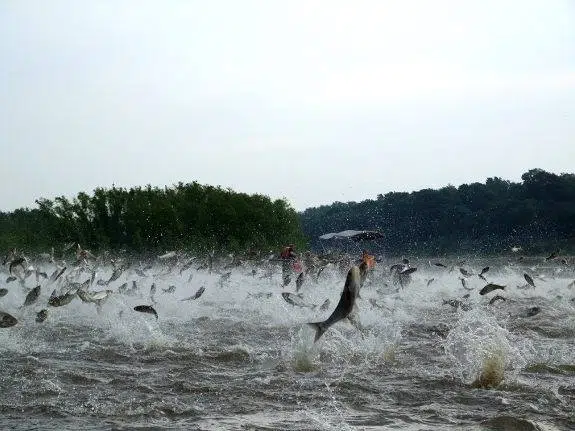 Governor Matt Bevin announced the first ever Kentucky fish house contract Tuesday to continue the war on Asian carp and encourage job growth in the state.
According to a news release, the Kentucky Fish Center, LLC in Wickliffe has won the contract to establish the house, which will expand the market for Kentucky caught Asian carp. Angie Yu, operator of Two Rivers Fishery, a fish processing company also based in Wickliffe, will own and operate the Kentucky Fish Center. Asian carp caught in Kentucky will be sold by Kentucky Fish Center in daily auctions open to all interested buyers. The Kentucky Department of Fish and Wildlife Resources will oversee the auctions.
The fish house will buy carp caught in Kentucky at a promised price of 19 cents per pound and then sell the fish to domestic and international consumers in daily auctions. The Kentucky Department of Fish and Wildlife Resources is pledging up to $4 million in loans and incentives for the fish house and commercial fishermen. The department will pay commercial anglers an incentive of 5 cents per pound for their catch.
Governor Bevin says, "Today's announcement is a great example of government partnering with the private sector to create a commonsense, market-based solution. It will provide commercial anglers with new opportunities, while also removing this invasive species from Kentucky's waterways."
Asian carp first came to the United States to help control aquatic weeds and algae blooms in fish farms. They have now spread throughout lengthy portions of the Mississippi, Ohio, Missouri and Illinois rivers and have established significant populations in Kentucky and Barkley lakes.