Just about a week ago, Christian County Public Schools announced Jeff Addison as the interim Head Girls Soccer Coach for Hopkinsville.
"I am very excited to get back to coaching and doing what I love," said Coach Jeff Addison. "Many of these girls were on teams I have coached in the past. It's good to see some familiar faces and be able to see them grow and develop into the players they have become."
Addison, of course has a long-storied history of coaching the HHS Girls Soccer team. He compiled 234 wins during his 18-year tenure as head coach, the ninth best in KHSAA history.
With all that being said, you probably could not, in that case, ask for a better person to come in with one of the biggest games of the year on the docket next.
With just two practices under his belt, one of which had to be indoors due to weather, Coach Addison and his team suited up to face Christian County.
Not just a cross-town rival, the week they also play in football, but obviously a pivotal district game.
Now again, Coach Addison is clearly no stranger to the game and the pageantry and history of the rivalry. However, that does not subtract from the possible distraction the situation could become, and his ability to have his team and interim staff ready.
Both staffs, and both teams for that matter, definitely rose to the occasion.
It became a back-and-forth affair with everything you could want, and in some ways not want, from a district rivalry.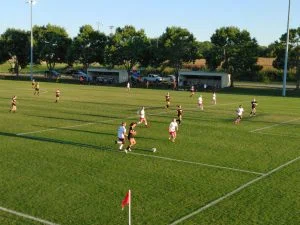 It began with a streaking Alayah Lander who spent the majority of the game outrunning the Lady Tiger defense when she could gain possession with some space to work.
Hopkinsville did what they could to contain her, but she scored twice on the evening with two very strong back of the net burners!
Luckily for the Lady Tigers, they had a superstar of their own, and some luck.
Morgan Woosley got herself a hat trick and each one came at an opportune time.
After Lander scored her first, and it seemed Christian County might take a strangle hold in terms of possession time, Woosley put some touch on a beautiful kick, not unlike a QB throwing a bomb, and it found the back of the net as her teammates cheered.
The Lady Tigers then survived a scary situation when County broke away and had not one but two-point blank shots on goal, BOTH would make that memorable clank sound off the cross or side bar before a third, after a slight defensive recovery by Hoptown, sailed high over the goal.
Lander would respond with fervor a few minutes later on her second goal and the Lady Colonels carried a 2-1 lead into the half.
Interim Coach Addison clearly gave an impassioned and Hoptown came out with a new gear unlocked.
Firing on all cylinders it seemed as if The Lady Tigers were poised to take over before Laney Wilson got tangled up with the opposing goalie and the crowd fell silent.
She eventually was helped off the field only able to put weight, seemingly, on one leg.
This felt as if it could have been a time for the Lady Tigers, concerned for their teammate, to wither or falter. Possibly allow Lander to sneak behind a defense with their teammate on their minds.
Instead, Woosley, timely as she was all night, just moments later struck one home on a set kick, just under thirty minutes to go in the game.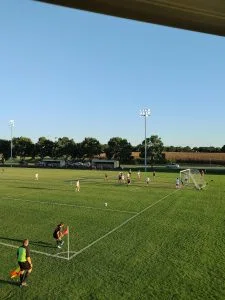 Now all tied up at two apiece the pressure was mounting for both sides. Would we go to PK's? This being a district game it could not end in a tie.
For over ten minutes we watched as the ball went back and forth, both teams jockeying for possession and shot chances.
Finally, with just under twenty minutes left, Woosley would complete the hat trick and set her team up for a defensive hold that looked not unlike prevent defense we might see Friday night when the two teams meet again, this time across the parking lot on the gridiron.
Coach Addison parked three defenders at midfield or back to prevent and control any fast breaks or streaks by the Lady Colonels. A strategy according to several parents he was known for doing in his previous tenure at Hoptown.
It worked as Lander never had the space to use her speed and find the back of the net and provide a hat trick of her own.
A 3-2 victory after more than eighty minutes it seemed of soccer for the Lady Tigers.
The question now becomes, just for fun, is this a sign of how the game will go Friday night?
Only one way to find out. Come out to the Stadium of Champions Friday evening or tune in and listen to another installment of this cross-county rivalry.