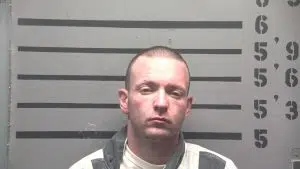 An investigation Tuesday afternoon in Madisonville led to the arrests of two people.
Detectives with the Madisonville-Hopkins County VICE/Narcotics Unit and Kentucky State Police went to a 260 Kingdom Hall Road residence after receiving numerous tips of possible drug activity at that location, according to a news release, which says the homeowner gave consent to search the residence.
Police say they found methamphetamine, marijuana, drug paraphernalia, cash and a loaded .45 caliber handgun in a bedroom occupied by 34-year old Gary Ezell of Paducah and 38-year old Crystal Larkins of Madisonville.
Ezell was served with a warrant for probation violation and was charged with trafficking in meth and marijuana. He's additionally charged with possession of a handgun by a convicted felon and possession of drug paraphernalia.
Larkins was arrested for possession of a handgun by a convicted felon.