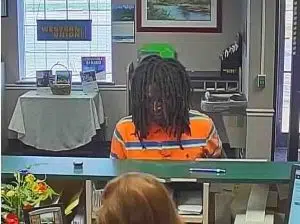 Police are still looking for the man who robbed a US Bank on Fort Campbell Boulevard in Clarksville last month and he may have struck again in Nashville.
The Clarksville incident happened July 7th, when a black male with dreadlocks wearing an orange shirt presented a clerk a note demanding money. He got into a black SUV with tinted windows and headed north on Fort Campbell Boulevard.
The suspect had been at a US Bank in Hopkinsville earlier in the morning and police believed he had intended to rob that branch, as he left behind a note with wording similar to the one presented in Clarksville. It's unknown why he didn't go through with that robbery.
On Wednesday, a man who looks to be the same person robbed a bank on Bell Road in Nashville. This time he fled the scene in a white SUV.
A news release says the man could certainly strike again and anyone seeing him or knowing his whereabouts should dial 911.