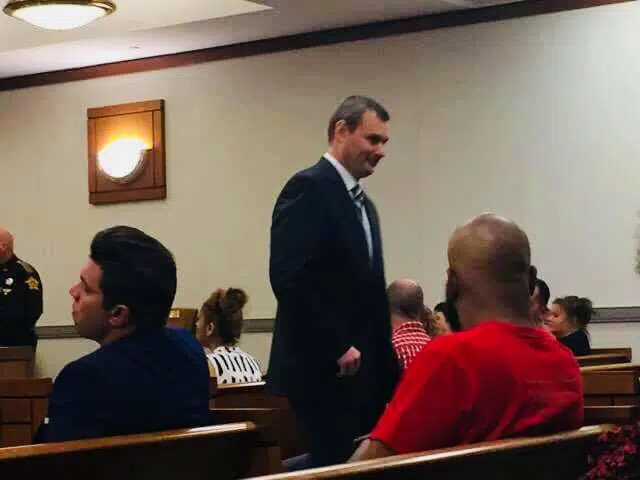 File photo
The case against former Oak Grove Police Officer Ben Walden was dismissed without prejudice Friday by Christian Circuit Judge Andrew Self, following a request for dismissal from the Commonwealth Attorney.
The request came last week from special prosecutor Ralph Vick, the Commonwealth's Attorney from Muhlenberg, who stated that there was not enough evidence in the case that could end in a conviction. Both Vick and defense attorney Rick Boling, who represents Walden, entered supplements detailing why the charges of rape, sodomy, intimidating a participant in the legal process, retaliating against a participant in the legal process, tampering with evidence, official misconduct, permitting prostitution, terroristic threatening and fourth-degree assault should be dropped.
In the written ruling from Judge Self he cites Vick's supplement, which says that after forensic investigation into multiple electronic devices, there were no images or communication between Walden and the accuser or those involved with prostitution. It goes on to list that the accuser in the case has falsely reported incidents before, including in Wyoming when she allegedly accused someone of rape while that person was not in the county when the assault was said to have occurred.
According to the document, a rape kit was performed on the victim following the alleged assault, where DNA samples were taken from several body areas along with two condoms. None of the DNA samples were shown to be Walden's.
Judge Self ruled to dismiss the charges without prejudice, agreeing that "based on the evidence, it is understandable why the Commonwealth is moving to dismiss the indictment. What is not clear, based on the foregoing, is why the indictment was sought and obtained in the first place."