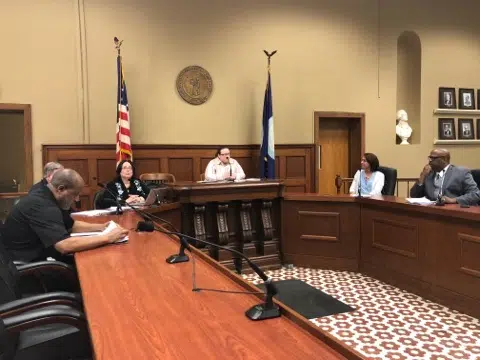 Voter turnout is notoriously low in Christian County, and it was the source of a Get out the Vote Forum held Friday evening by Hopkinsville Young Democrats.
There were 50,265 registered voters in 2016, but only about 44 percent of them voted in the presidential election. That number was lower in 2014 for the local elections, with 33 percent of 46,000 registered voters showing up at the polls and then that number was lower still in 2015 for the governor race, with only 17 percent of 48,000 turning out to vote.
Local NAACP President John Banks says low numbers can be caused by many factors, including voter apathy, what candidates are running, lack of transparency in elections and more. Youth Activist Audrey Self says a lot of people may just not know how to register or where to vote, so there should be outreaches to educate them on what to do.
Freelance reporter Jennifer Brown says older generations reliably vote, while people in the younger generations are shown to vote more inconsistently, though she says that could change in upcoming elections as more people become knowledgeable through news and social media.
Christian County Clerk Mike Kem says early voting would solve a lot of problems, making it so people who can't leave work or make it to a poll on election days could still have a say.
Murray State University History Professor Dr. Brian Clardy encouraged candidates running in local elections to speak with citizens as they're out campaigning, educate eligible voters and talk about real issues.
The forum was moderated by reporter Melissa Pettitt and many topics were discussed and questions taken from the audience. One audience member says she thinks politics has become too much about why people shouldn't vote for the other guy, instead of about what the candidate's stances are and what they can do for the community.