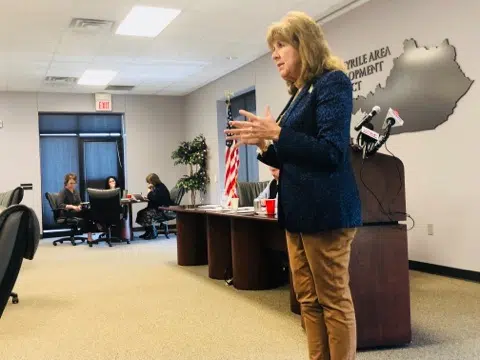 While many subjects were discussed with the State Director of Kentucky United States Department of Agriculture Rural Development, at the Pennryile Area Development Area Board of Directors meeting Monday, broadband internet access in rural areas was the main topic.
Hilda Legg has served under four presidents and was appointed by the Trump administration to as state director for Kentucky in 2017. She says she knows the need for connectivity is great in counties, as they look to bring younger generations and businesses to their community.
She says USDA is working to bring broadband access to rural areas across Kentucky, but it's going to take partnerships with local entities to move the process along.
Legg says there will be more money than ever for rural development in the coming years if President Trump's proposed budget is passed, which can go towards grants to further expand broadband.
She encouraged elected officials to create broadband committees in their counties to start discussing ways to bring the services to them and reach out to municipalities and other entities to start planning fiber infrastructure.