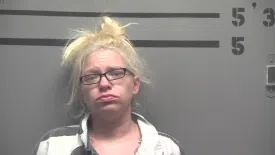 Keown                                                                                             Vertigan
Three people were arrested, including a Hopkinsville woman, following a 17-mile pursuit that began Tuesday morning in Hopkins County.
Trooper Rob Austin was approached by a citizen regarding a suspicious vehicle at New Lakeside General Baptist Church in Morton's Gap.
He located the black Jeep Patriot and attempted to make a traffic stop, but the driver—45-year old Robert Keown of Madisonville—allegedly accelerated to flee.
Madisonville Police and the Hopkins County Sheriff's Department assisted on the pursuit and spike strips were used to bring the Jeep to a stop on US 41 south of Nortonville.
Keown fled on foot, but was arrested following a short pursuit. Troopers determined him to allegedly be in possession of methamphetamine, cocaine, drug paraphernalia and a handgun.
One passenger, 28-year old Kali Vertigan of Hopkinsville, was arrested on a warrant out of Hardin County. Another passenger, 26-year old Gevin Lemons of Nortonville, was arrested for public intoxication.
Keown was arrested for several drug possession charges, in addition to multiple counts of fleeing or evading police, DUI and wanton endangerment.