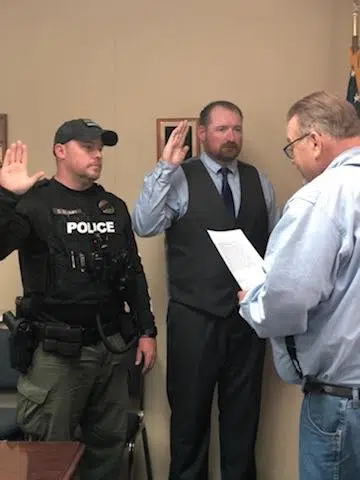 Guthrie Police Sgt. Dean Blumel was promoted to chief Thursday, filling a vacancy left following the recent passing of Chief Matthew Humble.
Mayor Scott Marshall swore in Blumel and newly hired officer Brock Sawyer.
Chief Blumel began his duties as an officer with Guthrie Police just under four years ago and was later promoted to Sgt.
Blumel issued a statement saying, "I am honored to be promoted to the position of chief. It was a goal of mine since the beginning of my enforcement career."
He adds, "My best friend and chief Matthew Humble always told me I would eventually have this opportunity, and I promise that I will make him proud. There was a time I wasn't sure if I wanted to continue my career in law enforcement until he arrived and reassured me I could do it."
Blumel says he owes all of his success to Humble and he thanks God, his family and the citizens of Guthrie for this opportunity.
Sawyer is a Guthrie native, is a retired Army Chief Warrant Officer III and has a master's degree of business from Ashford University.
Chief Humble died last week following a battle with liver cancer.