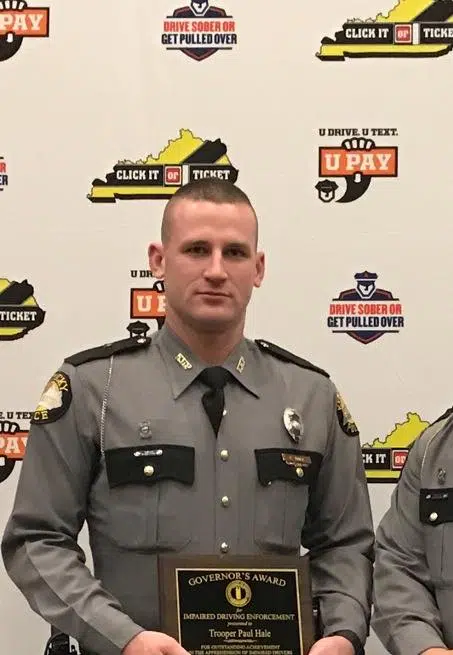 Trooper Paul Hale
Kentucky State Police have now identified the trooper who fatally shot a suspect following a pursuit Monday morning on Greenville Road.
Trooper Paul Hale is a three year veteran of KSP, according to a news release. He has been placed on administrative leave, pursuant to KSP policy.
Trooper Hale and Christian County sheriff's deputies responded to the report of a suspicious vehicle at Greenville Road and Meacham Road early Monday morning and found 44-year old Damon Christopher Gayheart, of Owensboro, slumped over the steering wheel.
Investigation determined the vehicle had been reported stolen in Ohio and police say Gayheart became uncooperative and dragged Trooper Hale with his car when he drove away. Trooper Hale was able to dislodge himself and a pursuit continued southbound for several miles.
Gayheart's car caught fire during the pursuit for unknown reasons and finally came to a stop. It was then KSP says Gayheart was shot and killed by Trooper Hale during 'interaction at the end of the pursuit.'
Gayheart was pronounced dead at the scene by Deputy Coroner Mike Stokes.
The incident remains under investigation by the KSP Critical Response Team.
It's not the first time Trooper Hale has been in the news this year, as he entered an Alford plea to a DUI charge in April, according to a story from WPSD TV. His plea deal came with a 30-day suspension of his driver's license, a requirement that he participate in a DUI class, a $753 fine and two years of probation.  He was suspended from KSP without pay for 30 days.
Trooper Hale was assigned to Post 1 in Mayfield at that time and the incident happened last December in Carlisle County.
In December of 2016, Trooper Hale was recognized for being the impaired driving enforcement leader for Kentucky State Police, Post 1.