Jason Adams
A man sought on multiple felony warrants was arrested Saturday morning at a South Virginia Street address and two additional suspects were arrested for allegedly hindering officers' attempts to locate him.
Hopkinsville Police Officer Alex Cortez went to a 2323 South Virginia Street apartment about 3:30 a.m. to locate 38-year old Jason Adams of Hopkinsville, according to an arrest citation, which says 32-year old Adam Cody Schneider came to the door and 30-year old Amy Hodge of Hopkinsville soon walked up outside the residence.
Schneider told police he didn't know if Adams was inside the small apartment rented by Hodge and Hodge said Adams was not there.
She gave consent to search and police say they located Adams in a back bedroom.
He was arrested and served with warrants for probation violation and failure to appear in court—both relating to previous methamphetamine-related charges.
Schneider and Hodge were arrested for hindering apprehension of a fugitive.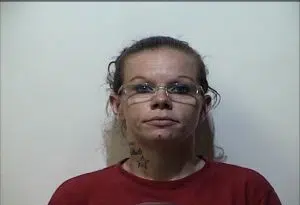 Schneider                                                                                  Hodge