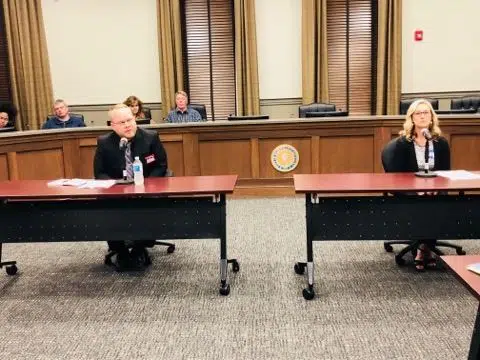 The first round of League of Women Voters candidate debates took place Tuesday evening, and the candidates for Christian County Circuit Court Clerk squared off.
Both Trent Haddock and Paige Parker detailed their experiences in the field, with Parker saying she has worked with deputy clerks in several capacities over the years and citing her experience as an administrative assistant in the District Judges Office. Haddock spoke about his experience as a supervisor for probation and parole and his education in criminal justice and communications.
When asked what changes they would make in the clerk's office if elected, Haddock says anything major will happen through the Administrative Officer of the Courts, but he will advocate for needs, including making sure the driver's license office is fully staffed.
Parker says she would cross-train all staff to know how to perform all clerk duties in the court system, to improve customer service.
Both candidates agreed that the circuit court clerk position should be more involved in the community, to have a better understanding of what the community is doing.
Haddock and Parker are running as Democrats, so they will face off in the May primary to see who becomes the next Circuit Court Clerk.
Hear the entire debate below: