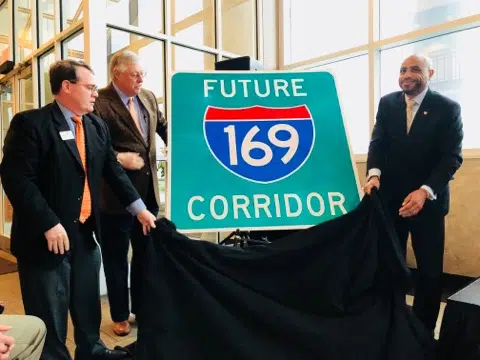 After years of work, advocacy and collaboration between local, state and federal government, the Christian County Chamber of Commerce unveiled the new "future Interstate 169 corridor signs" Monday.
The Chamber, multiple agencies in the area and elected officials have been working for more than 25 years to have the Pennyrile Parkway designated as an interstate, and finally the timing was right for everything to come to together to make it a reality.
United States Senator Rand Paul spoke at the celebration and commended the leadership in the community and says he hopes the designation will help the area grow.
Congressman James Comer says the city and county will be able to market the location now and bring in tourism and industry.
Morgan Alvey stood in for U.S. Senator Majority Leader Mitch McConnell and says the accomplishment was truly a herculean effort of teamwork.
The ceremony was host to multiple speakers, including State Senator Whitney Westerfield, Representatives Walker Thomas, Myron Dossett and Lynn Bechler, representatives from the Kentucky Transportation Cabinet and Federal Highway Administration.
The signs will soon go up, but there is still a lot of work to be done before it truly becomes the I-169 spur, including bringing the roadway and interchanges up to current standards. A study estimated the cost of upgrading the 34 miles of existing Pennyrile Parkway to current Interstate standards at about $161 million.