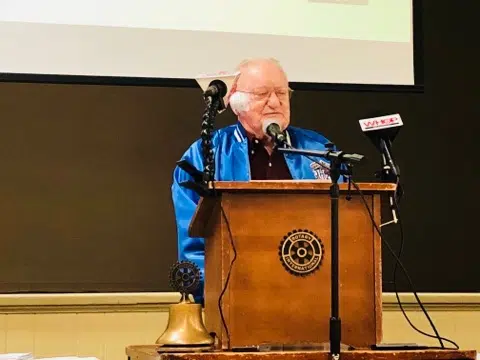 Honor Flight Bluegrass is celebrating 10 years of existence and spoke with the Rotary Club of Hopkinsville Tuesday as they search for veterans and volunteers for the next flight.
The Honor Flight initiative searches for veterans of World War II and the Korean War and then flies them to Washington D.C. to visit the monuments set in memory of those events and those who lost their lives in them. Some veterans have never gotten the chance to visit, and this allows them to.
Organize Cletis Evans says he needs people to go out and find not only veterans, as they are searching for more to fill the flight happening in June, but also find people who can donate to the cause.
Dwayne Saltsgiver is a World War II veteran who has made the flight before, and he says it meant more to him than he could really say and he didn't pay for anything.
David Smith accompanied his father on a flight as a guardian, and says he will never forget how his father reacted to seeing the World War II memorial and the happiness it brought him.
The next flight will be a two-day one that will take the veterans to Washington D.C. on June 6, or D-Day. Each flight is fully equipped with medical staff, individuals guardians for each person and a grand homecoming.  There are only around 4,000 veterans remaining in Kentucky and the organizers ask for those who are able to travel to sign up at honorflightbluegrass.com and take the trip.