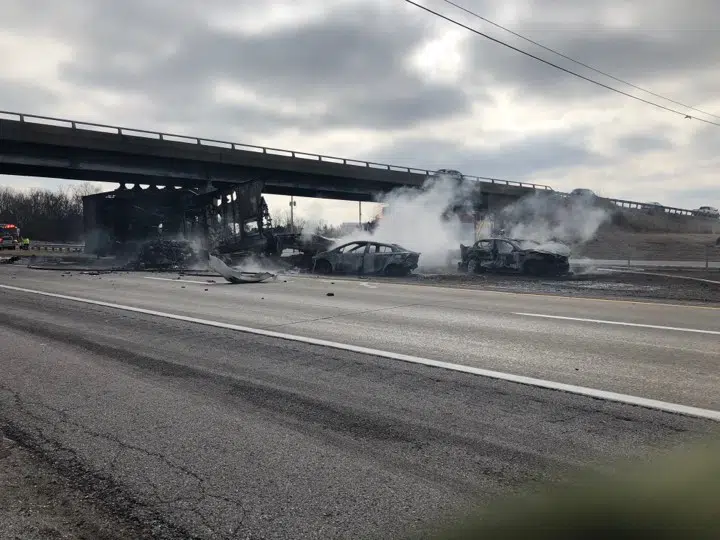 Kentucky State Police has released details about the nine-vehicle collision on Interstate 24 Monday morning that claimed the lives of two people.
According to a news release, both lanes of I-24 westbound had been closed down as the Christian County Sherriff's Department worked a wreck without injuries at the 79 mile marker and traffic had backed up to the 80 mile marker. A tractor-trailer driven by 39-year old James Lee of Mulberry, Tennessee was unable to stop in time, striking a vehicle in the right-hand lane.
55-year old Mary Engrav of Iowa was operating the pickup when the semi struck. She was pronounced dead at the scene and her sister, 58-year old Joan Lyons who was a passenger, was taken to Vanderbilt University Medical Center where she later died of her injuries.  The third passenger, 61-year old Barbara Winters-Kelly was transported for non-life threatening injuries. Engrav's vehicle was forced into the rear of a second semi, driven by 64-year old Jeffery Bartlett of Georgia.  He was uninjured.
The tractor-trailer continued into the left-hand lane, striking three other vehicles, sending 79-year old Ronald Logon of Illinois, Lawrence Boykin and 29-year old Alicia Sheerer of Princeton to Jennie Stuart Medical Center for non-life threatening injuries. Sheerer, Kellogg and their passengers were able to make it out of the vehicles before they became fully engulfed in flames, along with the tractor-trailer.
The collision sent those vehicles into three others, sending 67-year old Robert Kellogg Jr. of Tennessee and 67-year old Kathy Goers to area hospitals for various injuries. The driver of the third car, 44-year old Jason Higgins of Elkton, was not injured.
Lee was transported to the hospital for non-life threatening injuries and KSP continues to investigate.                                                                                                **