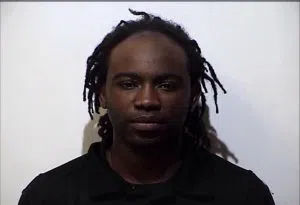 Nicholas Smith                                                                  Markeese Ogburn
Two Oak Grove men were indicted on rape charges by a Christian County Grand Jury Friday.
An indictment for first-degree rape was returned against 27-year old Nicholas Lloyd Smith of Oak Grove, alleging he engaged in sexual intercourse with an adult victim by using force on the 4th of July.
In a separate incident, 24-year old Markeese Ogburn of Oak Grove is indicted for first-degree rape and two counts of first-degree sodomy. Oak Grove Police allege that Ogburn and another man forced a 17-year old female victim into sexual intercourse in May of this year.
A neighbor heard screaming and found the victim covered with only a blanket, according to the warrant, which says Ogburn and the other suspect fled when the neighbor called police. The other suspect's name is not listed on the warrant or indictment.
The grand jury indicted 30-year old Demisha Wilford of Hopkinsville for first-degree assault, as she allegedly stabbed Duane Morehead with a knife during a dispute in June on West First Street.
Indictments for first-degree assault were also returned against 33-year old Timothy Brown and 22-year old DeCoryone Forte of Hopkinsville for their alleged roles in an attack on Younglove Street last month that critically injured Jamarvis Allen.
In its final report, the July-August grand jury says it's 'appalled' at the large amount of drug activity in the community and that it's troubled that someone can sell a vehicle to a salvage yard without having to prove ownership.